The Staffordshire Survey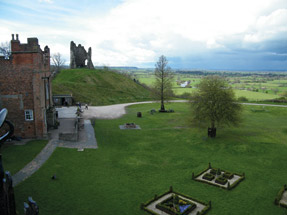 The Staffordshire Survey covers 7,398 acres, concentrated largely around the village of Needwood.
Needwood Forest was originally a large area of ancient woodland with extensive stocks of wolf, wild boar and fallow deer until, in 1803, an Act of Parliament allowed the Forestry Commissioners to enclose land and deforest it. Much deforestation took place between 1805 and 1811 as the area became subject to the new practice of enclosure of common lands for the improvement of agriculture.
The Survey today comprises a mix of arable, dairy, sheep and beef farms with some residential and commercial property. There are currently around 50 let houses on the estate, as well as a diverse mix of commercial activities, including a saw mill, equestrian centres, offices and a private airfield.
The Duchy is carrying out a programme of works to improve the quality of the existing 500 acres of woodland, parts of which are open to the public. Areas of the estate also form part of the National Forest designation and have been planted with new woodland in conjunction with the National Forest.
Areas of historic interest include Tutbury Castle where Mary Queen of Scots was briefly imprisoned, which is open to the public during the summer. For more information click here.