Rural
The major part of the Duchy's land holding, in terms of surface area, is held as rural estates.
The principal land uses within these estates are approximately 12,100 hectares of tenanted agricultural land, 4,200 hectares of moorland subject to common rights and 1,300 acres of in-hand woodland.
In the financial year ending 31 March 2015, the financial breakdown of the rural portfolio was as follows: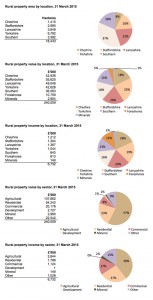 The rural holdings comprise:
Lancashire Survey (11,400 acres)
Five landed estates in north-west Lancashire, and extensive foreshore interests along the County Palatine coast between Merseyside and Cumbria. Of the five estates, only Myerscough, north of Preston, is an historic holding, although Whitewell, in the Hodder Valley, is part of the original Royal Hunting Forest of Bowland.
Yorkshire Survey (16,500 acres)
Three main estates, ancient possessions of the Duchy, within or on the edge of the North Yorkshire Moors National Park. The Goathland Estate, 10,000 acres, is the Duchy's largest holding. It is the location for Yorkshire Television's Heartbeat, and 'Hogsmeade' station of Harry Potter fame.
Crewe & Marbury (3,800 acres)
Two estates, both purchased in the twentieth century. The Crewe holdings span the gap between the M6 and the fringes of the town which continues to be developed for commercial uses.
Pontefract, Yorkshire (350 acres)
The remains of a landed estate around the town and castle.
Harrogate, Yorkshire (280 acres)
The remains of an historically substantial estate within and around the town, including The Stray.
High Peak, Derbyshire (270 acres)
An extensive and partially active ancient mineral estate in the National Park, and a small landed estate at Castleton, including underground caverns open to the public next to Peveril Castle.
Needwood, Staffordshire (7,300 acres)
An ancient rural estate enclosed within the Forest of Needwood and on the edge of the National Forest. Duchy interests include Tatenhill Airfield and a large British Gypsum mine at Fauld Camp.
Ogmore, Wales (3,800 acres)
Two large areas in the Ogmore Valley west of Cardiff, including common land, quarries, a golf course and foreshore on a protected coastline.
Higham Ferrers, Northamptonshire (2,000 acres)
A small estate of ancient possession that has been enlarged since World War II. The whole town is built on former Duchy land, and significant areas are being developed for new homes.
Other rural assets
Other rural property is held in Leicestershire and Lincolnshire, including foreshore off Wainfleet.
The Duchy owns numerous manors over an area far wider than its current freehold ownerships. The Duchy also retains mineral interests under extensive lands sold over the centuries.