The Queen's Chapel of the Savoy
The Queen's Chapel of the Savoy has a long association with the Duchy of Lancaster.
The Chapel is the last surviving building of a hospital founded by Henry VII for homeless people, the construction of which was completed in 1512 a few years after his death. It stands on the area of London known as the Savoy.
The Chapel belongs to Her Majesty The Queen in Her Right as Duke of Lancaster. It is a 'free' chapel or 'peculiar'.
In 2016, the Duchy of Lancaster agreed to the incorporation of the management of ecclesiastical matters at the Chapel into the Ecclesiastical Household under the oversight of the Dean. This new arrangement mirrors the relationship between the Historic Royal Palaces and the Chapels at the Tower of London and Hampton Court Palace, bringing all Her Majesty's Chapels in London under the ecclesiastical jurisdiction of the Dean.
The Chapel remains an important part of the Savoy Estate, the Duchy of Lancaster's principal London land holding. It continues to provide spiritual service to the community, as it has done for nearly 500 years.
The Queen's Chapel of the Savoy is also the chapel of the Royal Victorian Order, an Order of Chivalry within the Sovereign's personal gift. By The Queen's appointment, the present Chaplain is also Chaplain of the Order.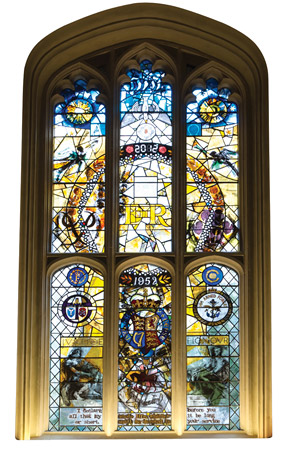 The expenses of the Chapel are borne by The Queen in Right of Her Duchy of Lancaster. Maintenance of this historic building remains the Duchy of Lancaster's responsibility. Recent work has included the landscaping of the gardens in honour of Her Majesty's Golden Jubilee, the restoration of the Chapel ceiling in 1999 and in 2011 improvements were made to the structure of the building in honour of Her Majesty's Diamond Jubilee which included the installation of a new commemorative stained glass window.
Members of the public are most welcome to attend services in The Queen's Chapel of the Savoy.  The Chapel is open to the public from Monday to Thursday 9am to 4pm and on Sunday from 9am to 1pm.
For further information and times of Services please visit www.royalchapelsavoy.org/