Historic Henry VIII Dish On View At Wirksworth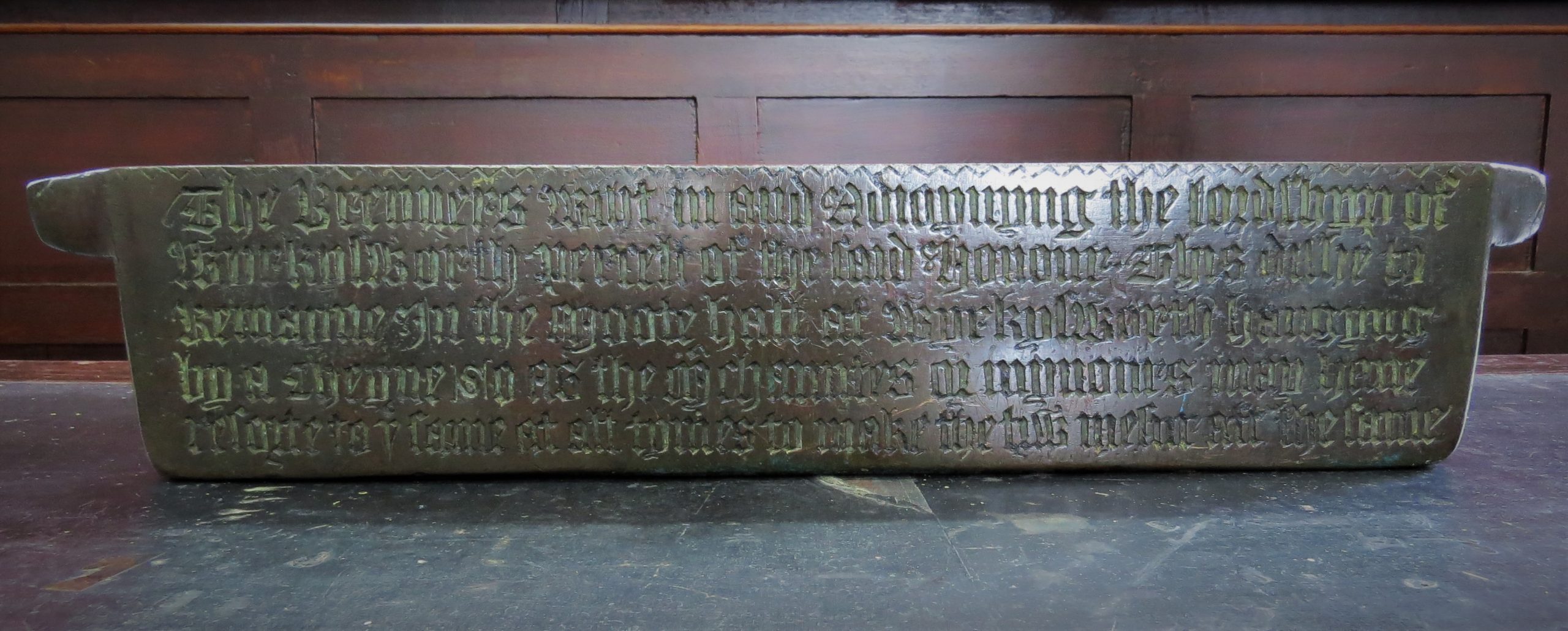 An ancient bronze standard dish, presented to the Barmote Court by Henry VIII in 1512 has been loaned to Wirksworth Heritage Centre for public exhibition for the first time in its history.
The dish will form the centrepiece of the Heritage Centre's latest exhibition: "Digging for grey gold, lead mining traditions". It tells the story of the Barmote Court which still meets annually in the small Derbyshire town of Wirksworth and which is one of the oldest in the land, dating back to at least 1288.
The valuable antiquity at the heart of the exhibition belongs to the ancient inheritance of the Duchy of Lancaster. It was used for centuries as a means of testing the volume of lead miners' wooden dishes against this regulation model. The dish is incredibly heavy even when empty and can contain approximately 85 lbs of lead ore when full.
Jacqueline Ferguson-Lee, Chair of Trustees at Wirksworth Heritage Centre, said: "We were absolutely thrilled to hear that we would be permitted to loan this historic dish when the news was announced publicly in the Barmote Court on 27th April this year.  Particularly so this year as it can now go on display as part of the Queen's Platinum Jubilee celebrations, offering visitors a rare opportunity to view this unique leadminers' standard dish in its hometown."
Wirksworth's Barmote Court was originally based in the old Market Place and was relocated to a building known as the Moot Hall on Chapel Lane 1814. The purpose of the Court was to collect taxes on behalf of the Crown and settle disputes between lead miners and landowners.
Taxes on lead mined in Derbyshire were such an important part of the Royal finances that Henry VIII provided Wirksworth with a standardised measuring dish to help them settle disputes and calculate taxes due more quickly and efficiently. The historic dish was stored at the Moot Hall until around 2012 when it was moved to Chatsworth where it is now stored on behalf of the Duchy of Lancaster.
The exhibition is at Wirksworth Heritage Centre on St John Street in Wirksworth and is open every day except Monday and Wednesday from 9.00 am to 4.00 pm.