Triple A For Duchy Rural Team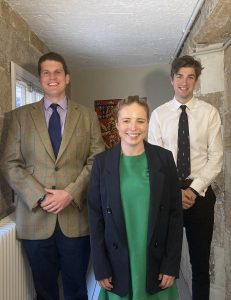 The Duchy of Lancaster continues to invest in the development of its Rural team with the appointment of 3 rural surveyors: Alex Morrison, Archie Rose and Alexandra Carr.
Alex Morrison joins the team as Estates Director for Yorkshire and the Foreshore. Alex began his career as an engineer before retraining as a rural surveyor. He started his surveying career with GSC Grays before moving to Carter Jonas LLP in 2018 where he has been Assistant Estate Manager a the Newby Hall Estate in North Yorkshire.
Archie Rose graduated with a degree in Rural Land Management from the Royal Agricultural University. On leaving University, he joined Carter Jonas LLP as a Graduate Surveyor where he worked as a member of the rural team while studying for his professional qualifications. Once qualified, Archie moved to the firm's Infrastructure and Energies team and has recently been working in the renewable energy sector. He will be working with the Duchy's Head of Rural on the Southern Survey and as Estates Surveyor on the Foreshore.
Alexandra Carr joins the Duchy as Estates Surveyor for Yorkshire. She will also be working with the Head of Rural on the minerals portfolio as well as the Duke of Lancaster Housing Trust. Alexandra completed a degree in geography at Durham University before studying for a Master's degree in Rural Estate and Land Management at Harper Adams University. After graduating from Harper, Alexandra joined multi-disciplinary practice Acland Bracewell as a Graduate Surveyor. She has recently been awarded her RICS professional qualifications.
Commenting on the new appointments, Duchy Head of Rural Carol Hawkey said: "We are delighted to welcome these talented individuals to the Duchy team. As with any business, the introduction of new people and new ideas is an exciting prospect and I have no doubt that all three of our new recruits will add real value to the work of the team. I look forward to working with them in the months ahead and to developing the strength and depth of the team still further as we move forward."
The land and property that makes up the ancient inheritance of the Duchy of Lancaster is managed as separate Surveys. There are five Rural Surveys within the Duchy which broadly correspond with their geographic locations – Cheshire, Lancashire, Southern, Staffordshire and Yorkshire – as well as a Foreshore Survey.