Growing the Rural Team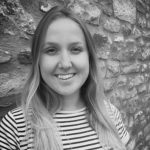 Rural surveyor Lydia Richards MRICS joins the Duchy of Lancaster team this month, helping us to further develop our engagement with tenants across the rural estates.
Lydia has spent the last four years working as an Assistant Land Agent on the Packington Estate in Worcestershire. She originally graduated from the University of Leeds with a BSc in Environmental Sciences before going on to complete a Masters degree in Rural Estate and Land Management at Harper Adams University in Shropshire.
Based at Lancaster Castle, in her new role Lydia will work with Estates Director Laura Airton to look after the Duchy's historic estates in Lancashire and Cheshire.
Commenting on the appointment, Duchy Head of Rural Carol Hawkey said: "I am delighted that Lydia has chosen to join us and have every confidence that she will enjoy her new role. Each of the Duchy estates has its own diverse portfolio of agricultural, residential and commercial tenants and each of those tenants has their own individual needs, aims and challenges. The objective of the Duchy's rural team is to fully understand these – particularly in the current climate – so that we can continue to offer appropriate levels of assistance and support. We believe this is best achieved by recruiting the right people at the right time and Lydia's appointment is part of that process."
Lydia comes from a farming background and continues to take an active interest in the family farm in Herefordshire, assisting her parents with lambing and cropping rotations throughout the year. She is also actively involved in the farm's Educational Access through Environmental Stewardship scheme.
The Duchy of Lancaster has five Rural Surveys across England and Wales: Cheshire, Lancashire, Southern, Staffordshire and Yorkshire. The Lancashire Survey is one of the oldest in the Duchy and currently includes 3,942 hectares across four estates: Myerscough, Salwick, Whitewell and Wyreside. The Cheshire Survey includes 1,557 hectares and is centred on the historic Crewe Estate.