New Farm Shop For Salwick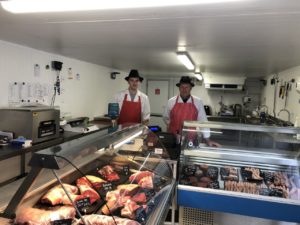 A Duchy farming tenant on the Salwick Estate in Lancashire has converted his dairy parlour into a fully equipped farm shop selling home reared lamb, pork and beef to wholesale and retail customers.
Richard Helme, a tenant at Wards House Farm since taking over from his father in 1996, believes the diversification of his business will add value to his existing stock of 600 breeding ewes, all lambs are finished on the farm, 6 breeding sows finishing all pigs to go through the shop. He is also trying to establish a native breed suckler herd based around Hereford, Angus and Shorthorn to finish his own beef as well. Having established a boxed lamb scheme in a smaller cutting room on the holding in 2017, Richard and his son Daniel have already built up a loyal clientele and are confident that the new venture will be well received.
"We have actually seen an increase in sales during the Covid-19 crisis," he says, "as people have taken an increased interest in the quality and provenance of the food they eat. We hope that this trend will continue and are planning to add a small extension to the front of the building in the coming months to extend our farm shop offering and improve our customers shopping experience."
Commenting on the new facility, the Duchy's Regional Surveyor of Lands for the North Andrew Johnson said: "We are always keen to support tenants as they seek to diversify their farming interests. Richard's boxed lamb scheme has grown steadily over the last three years and in many ways this new venture is the next logical step. We wish him and his team every success with the new farm shop and look forward to working with him to further develop his business."
Wards House Farm is one of four main agricultural holdings on the Duchy's Salwick Estate which together with estates at Myerscough, Wyreside and Whitewell makes up the Lancashire Survey. Salwick extends to 479 hectares and also includes a small number of residential and commercial lettings as well as 15 hectares of woodland.