Maria Roskell Joins The Team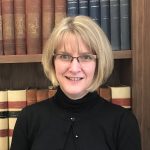 The Duchy has appointed a new senior PA/Rural Administrator to support the Rural Teams based at Lancaster Castle.
Prior to joining the Duchy Maria Roskell spent two and a half years in a similar position on another private landed estate in Lancashire. She is a highly experienced PA/Administrator with a good understanding of rural estate management and the importance of communication in ensuring positive tenant relations.
Born and brought up near the Duchy's Myerscough Estate in the heart of the Lancashire Survey, Maria is married with two children. A keen traveller and sailor, she and her family live in Forton on the outskirts of Lancaster.
Commenting on her appointment, Duchy Head of Rural Christopher Sparrow said: "We are delighted to welcome Maria to the Duchy. We have developed an excellent team at Lancaster Castle and are keen to ensure that they get the first-class support that they need. Maria's particular skillset and experience adds to the talent pool we now have in Lancaster, helping us to continue to grow and to improve."
Maria herself is enjoying the new role: "The Duchy of Lancaster covers an incredibly broad range of lands and properties here in the North. The tenants are hugely loyal and many stay on the Surveys for several generations so it is very important that we provide them with a professional and responsive service. My role is to support the Rural Surveyors responsible for each of the estates so that they can do just that."
The Duchy of Lancaster has decentralised many of its core functions since it opened its new office suite at the Castle at the end of 2016, moving rural estate management, building surveying and many of the accounting functions from London to Lancaster. The Northern office now looks after three of the Duchy's five Rural Surveys, namely Lancashire, Yorkshire and Cheshire.